DUST CHILD
From the internationally bestselling author of THE MOUNTAINS SING, a suspenseful and moving saga about family secrets, hidden trauma, and the overriding power of forgiveness. Told in the voices of two Vietnamese sisters, an American veteran, as well as the child of a Black American soldier and a Vietnamese woman, DUST CHILD tells an unforgettable and immersive story of how those who inherited tragedy can redefine their destinies through love, hard-earned wisdom, compassion, courage, and joy.

* International Bestseller

* Voted a best book of 2023 (so far) by Reader's Digest, Cosmopolitan, the Buzz Magazines, and Book Riot

* Voted a best book of the month/season by the Los Angeles Times, Amazon, Library Journal, the Chicago Review of Books, Ms. Magazine, BookPage, The Times, The Australian Women's Weekly, Sydney Morning Herald, and Apple Books

* Chosen by independent booksellers in the United States as an Indie Next List Great Read

A "sweeping, decades-spanning saga" - The New York Times

"An exquisite novel" - The Boston Globe

"Phenomenally Beautiful" - The Australian Women's Weekly

"A page-turner" - Star Tribune

"Impressive" - Financial Times

"Beautifully crafted...a masterful display of Quế Mai's capacity to evoke compassion through her lyrical prose" - The Irish Times

"Notable for its boundless compassion" - The Times

"Wonderful linguistic play... deft and illuminating descriptions..." BookPage

"A family epic to remember."— Chicago Review of Books

"Achingly honest and ultimately hopeful; essential reading."— Library Journal starred review

"Nguyễn deftly wields her own polyglot talents to reclaim lives too long overlooked." Shelf Awareness

"An insightful, engrossing novel." The California Review of Books

"...lyrical novel by a bold talent."Good Morning America

"A poignant and suspenseful saga."―BookBub

"Phenomenally Beautiful" - The Australian Women's Weekly

"A blistering novel" - The Toronto Star


"A moving saga about family secrets, trauma, discrimination, hope and, ultimately forgiveness."―San Diego Union Tribune

"Told from three points of view with emotion and skill, these intersecting stories will stay with you."―BookTrib

"Offers fresh, compassionate lens on Việt Nam"―KPBS (San Diego NPR ) Midday Edition

"At once empathetic, devastating and upbeat, burnished with Quế Mai's stunning signature prose."―WGBH / Under the Radar

"I truly cannot wait for the rest of the world to celebrate this book."—Chanel Miller, New York Times bestselling author of Know My Name

"A heartbreaking, beautifully told, utterly unique story of love, loss, and longing that speaks to the very heart of the human experience."—Kristin Harmel, New York Times bestselling author of The Forest of Vanishing Stars

U.S. Edition / U.K. Edition / Swedish Edition / Italian Edition / Dutch Edition / Croatian Edition

The novel is being translated into German, French, Russian, Spanish, Finnish, Portugal, Vietnamese...

"Another triumph! Powerful and deeply empathetic. A heartbreaking tale of lost ideals, human devotion, and hard-won redemption."—Viet Thanh Nguyen, Pulitzer Prize-winning author of The Sympathizer

​"As an adopted Amerasian orphan from the Vietnam War growing up in America, when I began to read Nguyễn Phan Quế Mai's novel, I felt something I had never experienced while reading a book: a profound connection with the characters... Some hidden details of my life miraculously mirror what happens in this book. Dust Child is more than a book to me, it is much-needed reconciliation and healing."-Trần Văn Kirk (Kellerhals), director of Intersections, winner of Best Inspiration Film at the 2022 Cannes World Film Festival

"With her generous heart and unmatched ability to write across languages and cultures, Quế Mai is the perfect guide for the wounded who search for home and healing." Thi Bui, American Book Award-winning author of The Best We Could Do

"Well-researched, realistic, and compassionately written. This eye-opening and fascinating novel is a must-read!"—Le Ly Hayslip, bestselling author of  When Heaven and Earth Changed Places

"Once again, Nguyễn Phan Quế Mai has written a beautiful novel that shines a light on the history of Việt Nam. Dust Child is simply stunning."—Eric Nguyen, author of Things We Lost To The Water

"One of the most important works of historical fiction in recent times. Quế Mai leaves no voice silenced, urging all to never lose sight of our humanity, for no one is a child of dust." Sofia Akel, founder of the Free Books Campaign

"An evocative tale… Nguyễn's love for her country and its citizens shines through the pages of Dust Child." —Jing-Jing Lee, Women Prize long-listed author of How We Disappeared

"Dazzling. Sharply drawn and hauntingly beautiful."—Elif Shafak, Women's Prize shortlist author of The Island of Missing Trees

"Rewarding… with a cinematic clarity."—Publishers Weekly

"Stirring ... a page turner and sheds light on a neglected subject." Kirkus Review

"Nguyễn Phan Quế Mai is one of the most unique storytellers of our time. She creates plots which are Dickensian in their breadth and mastery." —Natalie Jenner, internationally bestselling author of The Jane Austen Society

"A powerful and moving story, brilliantly told." —Robert Mason, New York Times bestselling author of Chickenhawk

"Riveting... Nguyễn creates, in her luminous prose, a gripping and nuanced narrative." —Steven DeBonis, author of Children of the Enemy: Oral Histories of Vietnamese Amerasians and Their Mothers

"With great compassion, with a firm conviction in the redeeming power of love and forgiveness, and with the consummate skill of a great story-teller, Nguyễn Phan Quế Mai weaves us into the lives, past and present, of the ostracized, mixed-race children of American soldiers; their mothers, compelled by war into prostitution, and their fathers, the G.I.'s who abandoned them and yet remained haunted by them."—Wayne Karlin, author of Wandering Souls

MORE about Dust Child. MORE about The Mountains Sing.

Check out details of Quế Mai's international book tour for Dust Child
U.S EDITION: Algonquin Books/ Bookshop/ Books-A-Million/ IndieBound/ Bookshop/ Amazon
U.K EDITION: Oneworld Publications / Waterstone/ Blackwell's/ Amazon/
The novel is being translated into Italian, Dutch, German, Croatian, French, Russian, Spanish, Finnish...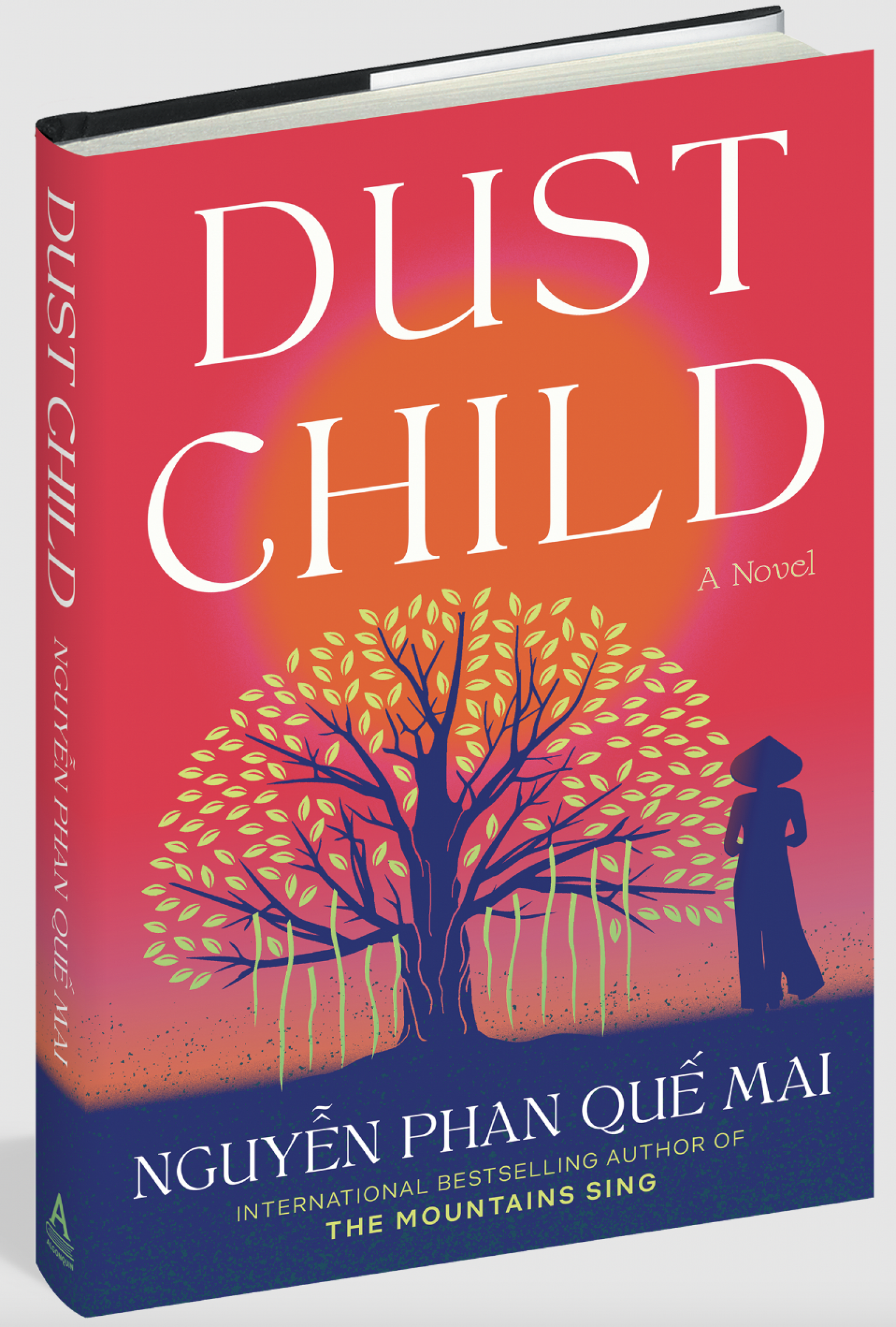 From the internationally bestselling author of THE MOUNTAINS SING, a suspenseful and moving saga about family secrets, hidden trauma, and the overriding power of forgiveness. Told in the voices of two Vietnamese sisters, an American veteran, as well as the child of a Black American soldier and a Vietnamese woman, DUST CHILD tells an unforgettable and immersive story of how those who inherited tragedy can redefine their destinies through love, hard-earned wisdom, compassion, courage, and joy.
* Voted a best book of 2023 by Reader's Digest, Cosmopolitan and the Buzz Magazines
* Voted a best book of the month/season by the Los Angeles Times, Amazon, Library Journal, the Chicago Review of Books, Ms. Magazine, BookPage, The Times, The Australian Women's Weekly, Sydney Morning Herald, BookBub and Apple Books
* Chosen by independent booksellers in the United States as an Indie Next List Great Read
A "sweeping, decades-spanning saga" - The New York Times
"An exquisite novel" - The Boston Globe
"A page-turner" - Star Tribune
"Impressive" - Financial Times
"Phenomenally Beautiful" -The Australian Women's Weekly
"Notable for its boundless compassion" - The Times
"Beautifully crafted...a masterful display of Quế Mai's capacity to evoke compassion through her lyrical prose" - The Irish Times
"Wonderful linguistic play... deft and illuminating descriptions..." BookPage
"A family epic to remember."
— Chicago Review of Books
"Achingly honest and ultimately hopeful; essential reading."— Library Journal starred review
"Nguyễn deftly wields her own polyglot talents to reclaim lives too long overlooked." Shelf Awareness
"An insightful, engrossing novel." The California Review of Books
"...lyrical novel by a bold talent."Good Morning America
"A blistering novel" -The Toronto Star
"A poignant and suspenseful saga."―BookBub
"A moving saga about family secrets, trauma, discrimination, hope and, ultimately forgiveness."―San Diego Union Tribune

"Told from three points of view with emotion and skill, these intersecting stories will stay with you."―BookTrib

"Offers fresh, compassionate lens on Việt Nam"―KPBS (San Diego NPR ) Midday Edition

"At once empathetic, devastating and upbeat, burnished with Quế Mai's stunning signature prose."―WGBH / Under the Radar
"Another triumph! Powerful and deeply empathetic. A heartbreaking tale of lost ideals, human devotion, and hard-won redemption."—Viet Thanh Nguyen, Pulitzer Prize-winning author of The Sympathizer
"Dazzling. Sharply drawn and hauntingly beautiful."—Elif Shafak, Women's Prize shortlist author of The Island of Missing Trees
"I truly cannot wait for the rest of the world to celebrate this book."—Chanel Miller, New York Times bestselling author of Know My Name
"As an adopted Amerasian orphan from the Vietnam War growing up in America, when I began to read Nguyễn Phan Quế Mai's novel, I felt something I had never experienced while reading a book: a profound connection with the characters... Some hidden details of my life miraculously mirror what happens in this book. Dust Child is more than a book to me, it is much-needed reconciliation and healing." -Trần Văn Kirk (Kellerhals), director of Intersections, winner of Best Inspiration Film at the 2022 Cannes World Film Festival
"A heartbreaking, beautifully told, utterly unique story of love, loss, and longing that speaks to the very heart of the human experience."—Kristin Harmel, New York Times bestselling author of The Forest of Vanishing Stars
"With her generous heart and unmatched ability to write across languages and cultures, Quế Mai is the perfect guide for the wounded who search for home and healing." Thi Bui, American Book Award-winning author of The Best We Could Do
"Well-researched, realistic, and compassionately written. This eye-opening and fascinating novel is a must-read!"—Lệ Lý Hayslip, bestselling author of When Heaven and Earth Changed Places
"Once again, Nguyễn Phan Quế Mai has written a beautiful novel that shines a light on the history of Việt Nam. Dust Child is simply stunning."—Eric Nguyen, author of Things We Lost To The Water
"One of the most important works of historical fiction in recent times." Sofia Akel, founder of the Free Books Campaign
"An evocative tale… Nguyễn's love for her country and its citizens shines through the pages of Dust Child." —Jing-Jing Lee, Women Prize long-listed author of How We Disappeared
"Rewarding… with a cinematic clarity."—Publishers Weekly
"Stirring ... a page turner and sheds light on a neglected subject." Kirkus Review
"Nguyễn Phan Quế Mai is one of the most unique storytellers of our time. She creates plots which are Dickensian in their breadth and mastery." —Natalie Jenner, internationally bestselling author of The Jane Austen Society
"A powerful and moving story, brilliantly told." —Robert Mason, New York Times bestselling author of Chickenhawk
"Riveting... Nguyễn creates, in her luminous prose, a gripping and nuanced narrative." —Steven DeBonis, author of Children of the Enemy: Oral Histories of Vietnamese Amerasians and Their Mothers
MORE about Dust Child. MORE about The Mountains Sing.
Check out details of Quế Mai's international book tour for Dust Child