THE MOUNTAINS SING
THE INTERNATIONAL BESTSELLER

* Winner of the 2021 PEN Oakland/Josephine Miles Literary Award

* Runner-Up for the 2021 Dayton Literary Peace Prize in Fiction

* Winner of the 2021 International Book Awards (Literary Fiction and Multicultural Fiction categories)

* Winner of the 2021 Nota Bene Prize

* Winner of the 2020 BookBrowse Best Debut Award

* Winner of the 2020 Lannan Literary Award Fellowship for "a work of exceptional quality" and for "contribution to peace and reconciliation"

A New York Times Editors' Choice

A Best Book of the Month/Year voted by The New York Times * Washington Post * O, The Oprah Magazine * USA Today * Amazon * PopSugar * Book Riot * Paperback Paris * SHE READS * We Are Bookish * The Millions * NPR's Book Concierge * Washington Independent Review of Books * NB Magazine * Real Simple * The Buzz Magazine * PopMatters * Global Atlanta * Otago Daily Times * Writer's Bone * HUMO newspaper

Educators recommend The Mountains Sing for classrooms

"An absorbing, stirring novel... that, in more than one sense, remedies history."—The New York Times

"A luminous, complex family narrative ... ."—NPR

"A richly imagined story." — Kirkus Starred Review

"This brilliant, unsparing love letter to Vietnam will move readers."— Publishers Weekly Starred Review

"Nguyen displays a lush and captivating storyteller's gift " — Library Journal Starred Review

"The great Vietnamese novel of our time."— DiaCRITICS

"A daughter of Vietnam marks the country's literary breakout." Nikkei Asia

"Nguyễn Phan Quế Mai's first novel 'usurps the colonizer' and lays bare her nation's unresolved trauma." The National

"This moving saga has captivated readers with its authenticity and lyrical storytelling." Boston Public Radio

"Propulsive and haunting."—BookPage

"Beautiful, heartbreaking and utterly essential... " — Saigoneer Bookshelf

"The book is distinctly Vietnamese."— Washington Independent Review of Books

"The missing narrative of the American War in Vietnam."— The Minneapolis Star-Tribune

"A compelling and challenging novel." – The Irish Times

AVAILABLE AS A HARDCOVER, PAPERBACK, E-BOOK OR AUDIOBOOK

U.S. Edition / UK Edition / Dutch Edition / Italian Edition / Indian Edition / Swedish Edition / Spanish Edition / Croatian Edition / German Edition / Turkish Edition/ French Edition / Finnish Edition / Czech Edition / Portuguese Edition / Audiobook

Forthcoming in Romanian, Serbian, Korean, Russian, Arabic, Norwegian, Polish, Macedonian and Danish

"A triumph... Moving and riveting... " —Viet Thanh Nguyen, Pulitzer Prize-winning author of The Sympathizer

"Rich and luminous... A feat of hope." —Ocean Vuong, MacArthur Award-winning bestselling author of On Earth We're Briefly Gorgeous

"This book is an act of love, compassion, and ultimately healing."—Thi Bui, American Book Award-winning author of The Best We Could Do

"Told with the sureness of a master storyteller with a poet's spirit."—Larry Heinemann, author of the National Book Award-winning Paco's Story

"Reading this novel, I came away with a deeper understanding of the war in which I fought."— Karl Marlantes, bestselling author of Matterhorn, What It's Like to Go to War

"One of the most significant contributions to literature."—Natalie Jenner, author of the international bestseller The Jane Austen Society

"Fresh imagery reflects a constant dependence on the earth for survival, passed down through generations of farmers." BookBrowse Starred Review

"Quế Mai has spoken for generations outside of Vietnam, millions upon millions of people bombed out, put underground, forced to flee and desperate to live" - CounterPunch

"A luminous tale that resonates across generations.."—O, The Oprah Magazine

"A beautiful evocation of a lost world." — The Paris Review

"A vivid look at Vietnam from within."

—People Magazine

"A comprehensive multigenerational tale." — The Washington Post

"Your heart will not leave this book untouched." — Lit Hub

"Fresh, and ultimately uplifting."Asian Review of Books

"There's an important Vietnam War history lesson embedded here, as well, one that is not often available to American readers..."— The Vietnam Veterans of America Book Review

"One of the most moving, and fundamentally eye-opening, novels I feel I will read in my lifetime."— The Nerd Daily

"A stunning work of historical fiction that lays bare history long forgotten."— Paperback Paris

"The Mountains Sing took my breath away. It moved me to my core. I was shaken, I was touched and, in spite of the tragedies in the book, I was inspired." WPSU Penn State Radio.

"Quế Mai opens a window into the other side of a controversial war, and we would do well to consider the lessons her characters teach." The Seattle Book Review

"A terrifying, melancholic and achingly beautiful first novel." South China Morning Post

"Historical fiction at its finest." SHE READS

"Authentic… The book has a very ingenious structure." – Australia's national radio ABC

"Told with poetic economy and intensity." Sydney Morning Herald

""Mesmerizing, devastating, searing and utterly authentic." — Lynn Novick, Co-producer of The Vietnam War documentary.

MORE about THE MOUNTAINS SING
AVAILABLE AS A HARDCOVER, E-BOOK OR AUDIOBOOK
U.S. Edition / UK Edition / Dutch Edition / Italian Edition / Indian Edition / Swedish Edition / Spanish Edition / Croatian Edition / German Edition / Turkish Edition / French Edition / Finnish Edition / Audiobook
Forthcoming in Romanian, Finnish, Serbian, Korean, Russian, Arabic, and Norwegian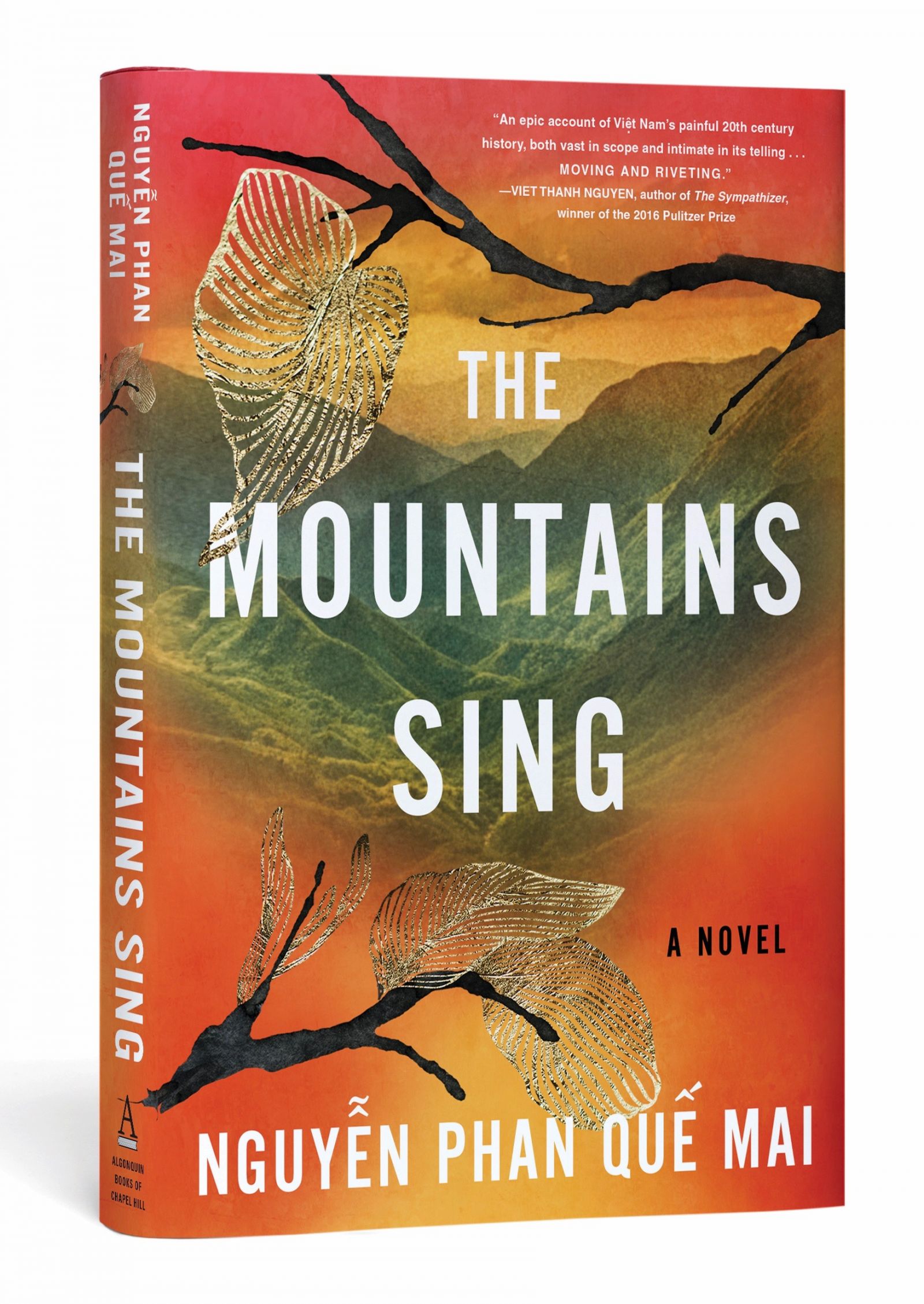 THE INTERNATIONAL BESTSELLER
* Winner of the 2021 PEN Oakland/Josephine Miles Literary Award
* Runner-Up for the 2021 Dayton Literary Peace Prize in Fiction
* Winner of the International Book Awards (Literary Fiction and Multicultural Fiction categories)
* Winner of the Blogger's Book Prize 2021
* Winner of the Annie Award 2021
* Winner of the 2020 BookBrowse Best Debut Award
* Winner of the 2020 Lannan Literary Award Fellowship for "a work of exceptional quality" and for "contribution to peace and reconciliation"
* A New York Times Editors' Choice
A Best Book of the Month/Year voted by The New York Times * Washington Post * O, The Oprah Magazine * USA Today * Amazon * PopSugar * Book Riot * Paperback Paris * SHE READS * We Are Bookish * The Millions * NPR's Book Concierge * Washington Independent Review of Books * NB Magazine * Real Simple * The Buzz Magazine * PopMatters * Global Atlanta * Otago Daily Times * Writer's Bone * HUMO newspaper
Educators recommend The Mountains Sing for classrooms
"An absorbing, stirring novel... that, in more than one sense, remedies history."—The New York Times
"A luminous, complex family narrative ... ."—NPR
"A triumph... Moving and riveting... " —Viet Thanh Nguyen, Pulitzer Prize-winning author of The Sympathizer
"Rich and luminous... A feat of hope." —Ocean Vuong, MacArthur Award-winning bestselling author of On Earth We're Briefly Gorgeous
"A richly imagined story." — Kirkus Starred Review
"This brilliant, unsparing love letter to Vietnam will move readers."— Publishers Weekly Starred Review
"Nguyen displays a lush and captivating storyteller's gift " — Library Journal Starred Review
"The great Vietnamese novel of our time."— DiaCRITICS
"A daughter of Vietnam marks the country's literary breakout." Nikkei Asia
"Nguyễn Phan Quế Mai's first novel 'usurps the colonizer' and lays bare her nation's unresolved trauma." The National
"This moving saga has captivated readers with its authenticity and lyrical storytelling." Boston Public Radio
"Propulsive and haunting."—BookPage
"Beautiful, heartbreaking and utterly essential... " — Saigoneer Bookshelf
"The book is distinctly Vietnamese."— Washington Independent Review of Books
"The missing narrative of the American War in Vietnam."— The Minneapolis Star-Tribune
"A compelling and challenging novel." – The Irish Times
"Author shines light on Vietnam War's female voices" - AFP
"This book is an act of love, compassion, and ultimately healing."—Thi Bui, American Book Award-winning author of The Best We Could Do
"Told with the sureness of a master storyteller with a poet's spirit."—Larry Heinemann, author of the National Book Award-winning Paco's Story
"Reading this novel, I came away with a deeper understanding of the war in which I fought."— Karl Marlantes, bestselling author of Matterhorn, What It's Like to Go to War
"One of the most significant contributions to literature."—Natalie Jenner, author of the international bestseller The Jane Austen Society
"Fresh imagery reflects a constant dependence on the earth for survival, passed down through generations of farmers." BookBrowse Starred Review
"Quế Mai has spoken for generations outside of Vietnam, millions upon millions of people bombed out, put underground, forced to flee and desperate to live" - CounterPunch
"A luminous tale that resonates across generations.."—O, The Oprah Magazine
"A beautiful evocation of a lost world." — The Paris Review
"A vivid look at Vietnam from within."
—People Magazine
"A comprehensive multigenerational tale." — The Washington Post
"Your heart will not leave this book untouched." — Lit Hub
"Fresh, and ultimately uplifting."Asian Review of Books
"There's an important Vietnam War history lesson embedded here, as well, one that is not often available to American readers..."— The Vietnam Veterans of America Book Review
"One of the most moving, and fundamentally eye-opening, novels I feel I will read in my lifetime."— The Nerd Daily
"A stunning work of historical fiction that lays bare history long forgotten."— Paperback Paris
"The Mountains Sing took my breath away. It moved me to my core. I was shaken, I was touched and, in spite of the tragedies in the book, I was inspired." WPSU Penn State Radio.
"Quế Mai opens a window into the other side of a controversial war, and we would do well to consider the lessons her characters teach." The Seattle Book Review
"A terrifying, melancholic and achingly beautiful first novel." South China Morning Post
"Historical fiction at its finest." SHE READS
"Authentic… The book has a very ingenious structure." – Australia's national radio ABC
"Told with poetic economy and intensity." Sydney Morning Herald
""Mesmerizing, devastating, searing and utterly authentic." — Lynn Novick, Co-producer of The Vietnam War documentary.
MORE about THE MOUNTAINS SING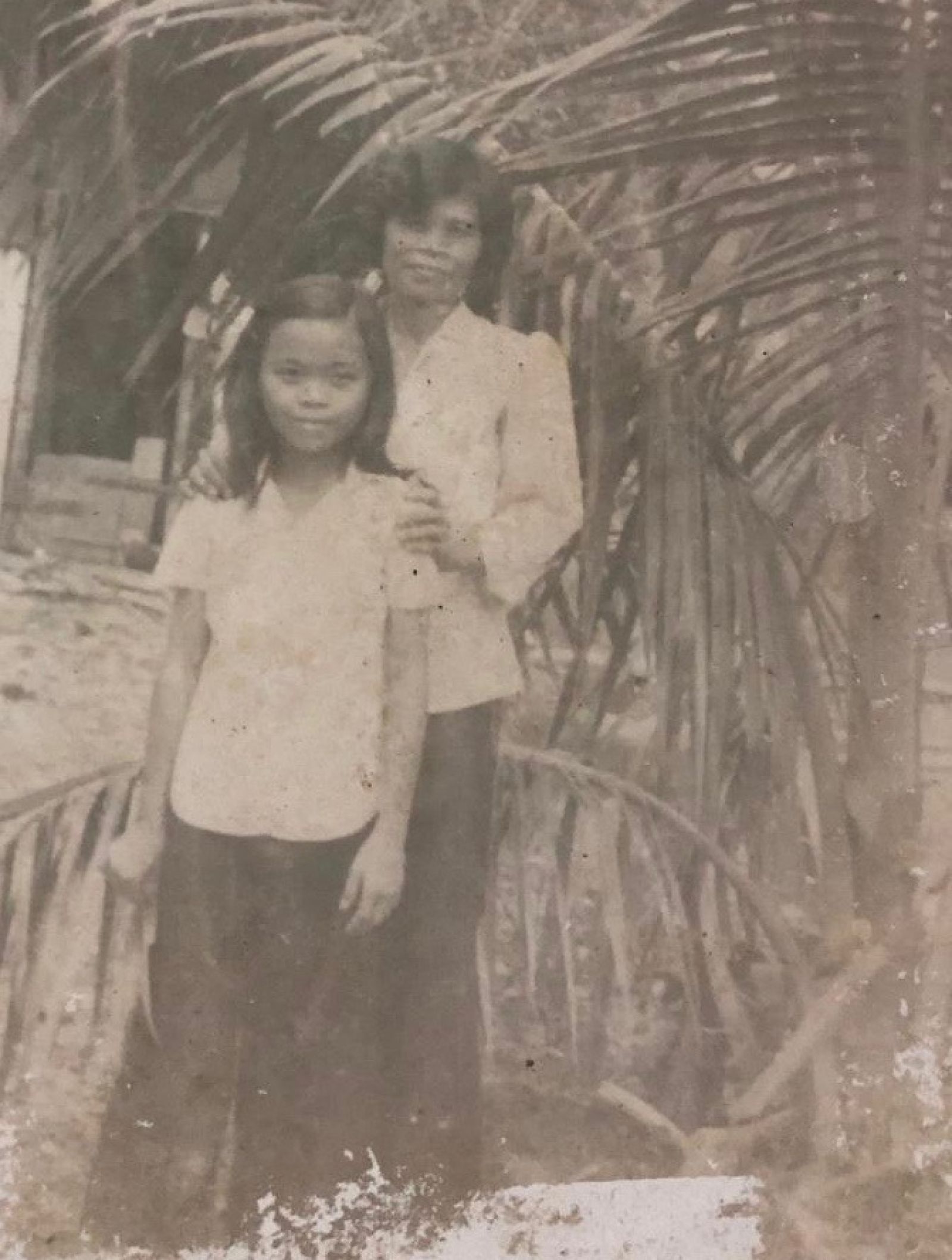 RESOURCES FOR READERS, BOOKCLUBS, LIBRARIANS, TEACHERS: Bookclub kit * Discover Characters' Names * Book Excerpt * Family Tree * Historical Timeline * Author Essay * Recommendations from Educators
The Mountains Sing tells an enveloping, multigenerational tale of the Trần family, set against the backdrop of the Việt Nam War. Trần Diệu Lan, born in 1920, was forced to flee her family farm with her six children during the Land Reform. Years later in Hà Nội, her young granddaughter, Hương, comes of age as her parents and uncles fight in a war that tears not just her beloved country, but her family apart.
The Mountains Sing is Quế Mai's debut novel and the first book she has written in English. With the novel's publication, Quế Mai has become the first Vietnamese citizen whose fiction in English is published to international acclaim.
Picture: Quế Mai and her mother in the garden of their home in Bạc Liêu where she grew up.
Watch Quế Mai's conversation about her novel with Viet Thanh Nguyen here. Other conversations are posted here
PRAISE FOR THE MOUNTAINS SING (in addition to those featured on the homepage):
A Most-Anticipated Book of the Year: Library Journal * Lit Hub * The Week * She Reads * The Buzz Magazine *The Millions * Publishers Weekly
"Ultimately glorious in affirming the resilience of the human spirit." Julia Alvarez, best-selling author of In the Time of the Butterflies and Afterlife
"A story of loss and sorrow, of longing for peace and normalcy, and—above all—of the triumph of hope over despair. "—Mai Elliott, Pulitzer-Prize Finalist & author of The Sacred Willow
"An essential read for anyone who wants to discover Việt Nam, and for Vietnamese and Vietnamese-Americans searching to understand their grandparents and parents." —Thanhhà Lại , bestselling & National Book Award-winning author of Inside Out & Back Again and Butterfly Yellow
"Nguyễn Phan Quế Mai brings herself to the forefront of those writers from Việt Nam who lately have gifted us with the stories of a country and a people often seen only as a backdrop for American pain. —Wayne Karlin, author of Wandering Souls, winner of the Vietnam Veterans of America Arts Award
"In The Mountains Sing, Nguyễn Phan Quế Mai has found a true and clear voice in English that is rich and compelling the way only those who come to English as a second language can sometimes manage."—Bruce Weigl, Pulitzer Prize Finalist and author of the best-selling memoir The Circle of Hanh
"This is a book that glows with spirit and those larger life forces that include love. I look forward to the day I can put this book in readers' hands." —Rick Simonson, Elliott Bay Book Company, Seattle
"Balances the unrelenting devastation of war with redemptive moments of surprising humanity."— Booklist
"This is a love letter, told honestly and poignantly, to the Vietnamese people, an homage to their dedication to remembrance, during and after a painful time."—The Arts Fuse
"A Vietnamese family's song resounds over the effects of decades of tumult in Nguyen Phan Que Mai's excellent novel, The Mountains Sing."—Popmatters
"The story is buoyed, too, by the family's extraordinary resilience... The flow of the writing and the story brings you onto a wave of hope."— Pittsburgh Post-Gazette
"A celebration of the human spirit, The Mountains Sing is a story you won't soon forget."— Popsugar
"Our experience is enhanced by learning a nation's history from different points of view through the words of a skilled and impassioned writer." – New Zealand's Otago Daily Times
"Quế Mai brings a poetic lyrical quality to her story. As Vietnam becomes more important to Australia's strategic and economic future in Asia, it is hard to think of a gentler, more engaging way to understand its 20th century evolution." – The Asia Society of Australia
"A timely and moving novel that bears witness to the atrocities of the past, which remain as echoes in the present." -Australia's The Saturday Paper
"A uniquely personal but distinctly Vietnamese story of home, family and hope." The Adelaide Advertiser Newspaper.
"A vast, epic historical novel set against the backdrop of the Việt Nam conflict through the eyes of the people themselves."
—Ms. Magazine
"The Mountains Sing brings Vietnamese culture to life, steeped in beautiful language and tradition."—The Campus
"A breathtaking multigenerational saga following the Trần family through Vietnam's turbulent 20th century. Quế Mai's poetic eye illuminates the complex realities of living with devastating conflict and loss. The Mountains Sing is a vivid, mesmerizing, and essential feat of storytelling."—Books Are Magic/The Magic Word
"An epic tale of family and Vietnamese history."—Orange County Register

"A poignant and vivid portrayal of a brutal slice of Vietnamese history from a perspective that is so rarely heard abroad: that of the Vietnamese themselves."—Doreen Baingana, author of Tropical Fish: Stories out of Entebbe
"Inspired by real life events, Nguyễn Phan Quế Mai's story will thrill, shock and terrify the reader in equal measure. It will also inspire them with its life-affirming qualities of everyday heroism and survival against all the odds."—Philip Caveney, author of Sebastian Darke, Alec Devlin and Movie Maniacs novels
THE MOUNTAINS SING is a highly recommended book for those who want to travel during the coronavirus pandemic, voted by The Los Angeles Times, The New York Times and Kirkus Reviews
THE MOUNTAINS SING is the Spring 2020 Spotlight Title of Hoopla Book Club
Dreamscape Media won the audio rights for THE MOUNTAINS SING at an auction.
Signatuur, the literary imprint of A.W. Bruna, acquired worldwide Dutch language rights for THE MOUNTAINS SING
Oneworld (who won the Booker Prizes in 2015 for Marlon James' A Brief History of Seven Killings and in 2016 for Paul Beatty's The Sellout) purchased the UK Commonwealth rights for THE MOUNTAINS SING.
Suhrkamp, a long-established and prestigious German publisher, purchased THE MOUNTAINS SING for their Insel list
Alianza Editorial acquired World Spanish rights of THE MOUNTAINS SING for their AdN (Alianza de Novelas) fiction imprint.
Historiska Media acquired the rights to translate THE MOUNTAINS SING into Swedish
Casa Editrice Nord, part of the Mauri Spagnol/GEMS group, purchased the rights to translate THE MOUNTAINS SING into Italian.
THE MOUNTAINS SING IS AVAILABLE NOW:
WORKMAN / INDIEBOUND / BOOKSHOP / BOOKS-A-MILLION / BARNES & NOBLE / LIBRO.FM / AUDIBLE / AMAZON / KINDLE / KOBO / THOMAS ALLEN & SON / GOOGLE PLAY
Climbing Many Mountains to Reach The Mountains Sing
An essay by Nguyễn Phan Quế Mai
In 1983, when I was ten years old, I went secretly to the post office in my hometown, Bạc Liêu, to mail a letter to Hà Nội. The letter contained my essay for a writing competition. When a notice arrived announcing that I had won a prize, my parents were shocked. Due to the long history of Vietnamese writers' experiences in my country (experiences which you will read in The Mountains Sing), my parents reminded me of their wish that their only daughter would not become a writer.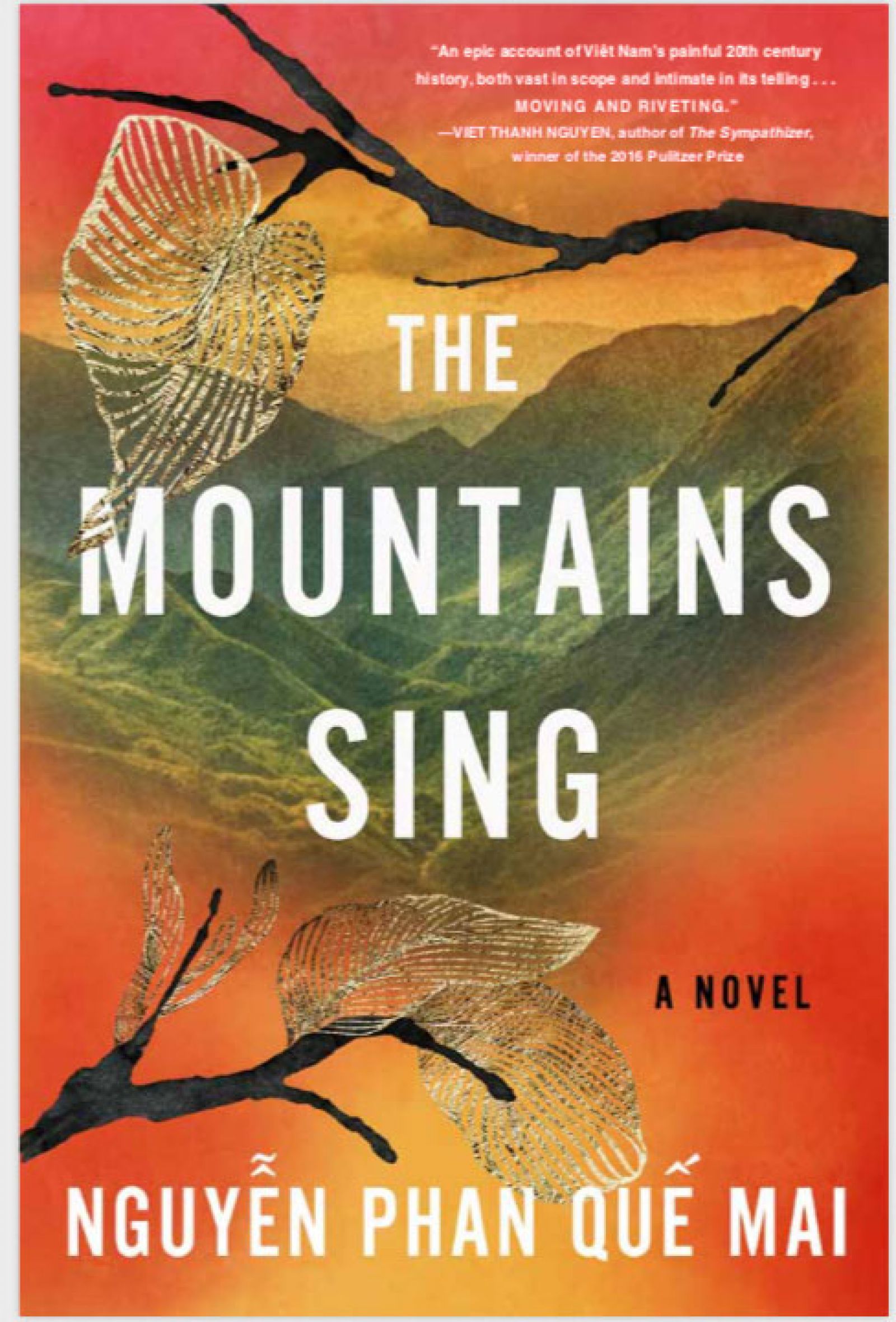 And then I had to put aside my dreams of writing to do a variety of jobs to earn a living and to help support my family. But the writer in me always listened to other people, always asked questions about their experiences during the war, memorizing their stories. In my teenage years, I began to travel to my parents' villages to talk with our elder relatives and family friends so I could imagine how life had been for my grandparents, who had either died or been killed before I was born. Gradually, the more I began to understand Việt Nam's painful past, the more my loved ones shared with me the events of their lives.
Unbeknownst to me, at that young age I was already carrying out the research for The Mountains Sing. It was only with time and distance and my ongoing academic research that I could comprehend the complexity of Việt Nam's history and its relations to other nations. My extensive exchanges with Vietnamese and American combat veterans, as well as volunteer work with victims of the war has expanded this understanding.
The Mountains Sing embodies my yearning to know my grandmothers, and to bring to life the under-represented women and children who often suffer the consequences of wars the most but must hide their sorrows to become pillars of strength and comfort for returning soldiers. Through Grandma Diệu Lan in the novel, I could talk to them, trace their footsteps, and paint the colors of their dreams and hopes.
It may seem ironic that I have chosen to write this novel, by far my most personal work to date, in English, which is also the language of invasive military powers and cultures. But this language has given me a new voice and a way to fictionalize the turbulent events of my country's past, including those which have not yet been sufficiently documented in Vietnamese fiction, such as the Great Hunger or the Land Reform. I am responding, with my art, to Hollywood movies and novels written by those Westerners who continue to see our country only as a place of war and our people as people who don't need to speak—or, when we do, we sound simple, naïve, cruel, or opportunistic. The canon of Việt Nam war and post-war literature in English is vast, but there is a lack of voices from inside Việt Nam.
When I first learned English in eighth grade, I didn't know that one day it would be the language that would save The Mountains Sing. Khương Dụ, the small Northern village where I was born, did not have an English teacher. Bạc Liêu, the Southern town where I grew up, didn't have many people who could speak English. For me, a student who also worked as a rice farmer and street vendor, the Western world was mysterious, only existing in the black and white movies I would occasionally catch a glimpse of while selling cigarettes in the town's cemetery which also served as our only open-air movie theatre.
I didn't know any English words until well into secondary school, when one afternoon, my eldest brother brought home a notebook. He told me he had just learned English from someone and would teach me. I was so excited I could barely swallow dinner. That night, after I had lit the oil lamp (we only had electricity occasionally) and put on long pants and a long-sleeved shirt to ward off the zillions of mosquitoes, my brother solemnly brought out his notebook. He opened the first page and pointed at a strange-looking word. "Sờ cu lờ," he said, and then looked at me, expecting me to repeat after him.
"Sờ...sờ...," I said, and brought my hand to my mouth.
"Sờ cu lờ," he said again.
"Sờ...sờ cu…" I repeated and burst out laughing. I couldn't help it! The words that had just escaped my mouth sounded like the Vietnamese phrase for "to touch a male's genitals."
So ended my first English lesson. Because I hadn't been able to stop laughing, my brother slapped his notebook shut and stormed out of the room. His face was as red as a gấc fruit.
"Brother! Teach me, please," I called after him, but he didn't turn back.
Later, much later, I found out my brother was trying to teach me a very important word: school.
I didn't dare ask him to teach me again, but occasionally I would steal his notebook when he was gone, hide under the mango and coconut trees that circled our fish pond, and stare at the English words. I sensed that behind those strange-looking words existed some magic doors and if I managed to push them open, I would be able to enter the big, wide world.
And now, with The Mountains Sing, I am taking my baby steps into that big, wide world. It took me seven years to write and edit, hundreds of revisions, many sleepless nights, tears, and countless moments of doubt. I doubted that I was a good enough storyteller. I doubted my ability to express complicated thoughts and emotions in English. But I never doubted my decision in 2006 at the age of thirty-three to return to my dream of becoming a writer.
By turning to the first page of The Mountains Sing, you will open the door into an authentic Việt Nam where proverbs are sprinkled throughout daily conversations, where lullabies and poems are sung. You will experience the colors, richness and complexity of our culture, beginning with our Vietnamese names and language, which appear in full diacritical marks.
The Việt Nam War ended on 30th April 1975. Forty-five years after the war, tremendous progress has been made in terms of reconciliation between Việt Nam and the United States. But the deep wounds that divided our country and families, both at home and in the diaspora, remain profound and painful. For that reason, The Mountains Sing places the Vietnamese people at the center of the Việt Nam War in the hopes that we will be open to difficult but necessary conversations that can help one another heal. And at the same time, I hope the story of Hương and Diệu Lan helps international readers discover our common humanity, as in the words of Hương: "Somehow I was sure that if people were willing to read each other, and see the light of other cultures, there would be no war on earth."